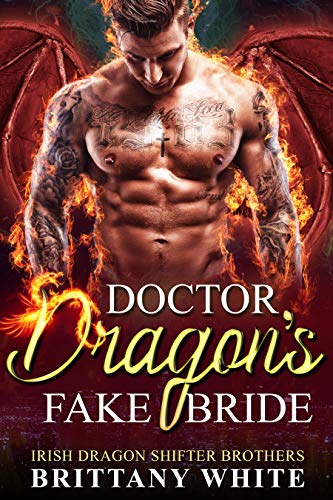 A dragon shifter must fake a proposal with his virgin neighbor, to save her from a forced marriage.
The Virgin Mate
My family wants to trade me like a piece of property.
And force me to marry a cruel man who only wants my virginity.
I flee, and find refuge in Texas.
I get lucky, because my next-door neighbor is a sexy doctor.
When I break my arm, my handsome doctor mends the bone, and
When my father sends a thug to kidnap me, my gorgeous doctor rescues me.
He promises to marry me, to protect me from the mob.
We host a fake wedding,
But when he touches me, my passion is real.
Our marriage might be pretending, but there is nothing fake about how much I want this smoking hot man.
The Irish Doctor
Thirteen years ago, my dragon shifter tribe was decimated by witches.
I followed my brother to the States to start a new life.
I miss my Irish home, but I've settled in Texas, as a doctor to humans.
The best part of my home is my neighbor, a beautiful young woman.
When a man breaks in, and tries to abduct her, I rescue her.
She confesses her secret.
She's a virgin, and her family is forcing her to marry.
I vow to protect her, and fake a proposal.
Despite the fake marriage, this woman is my mate, but I hide the truth about my heritage.
Her family sends the mafia after us, and I will do anything to protect her.
Even if it reveals the truth about who I am.
Can an Irish dragon shifter protect his virgin bride from her past? $0.99 on Kindle.