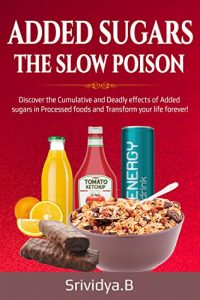 Worried about an increasing Waistline & Belly fat?
Suffering from Obesity, Metabolic disorders like Insulin resistance, TYPE-2 Diabetes?
Want to look TEN YEARS YOUNGER than your actual age?
Want to feel ENERGETIC & FIT all through the day?
Do you have Excessive cravings & addiction for Sugary sodas, Diet coke, Fizzy drinks, Energy drinks, Chocolates?
If your answer is a collective YES, then you have come to the right place. Learn about about the vicious cycle of added sugars, High insulin secretion & FAT STORAGE. Replace all the unhealthy refined sugars with these **14 NATURAL SWEETENERS **. Experience a remarkable & wonderful change in your energy, weight & fitness. Your skin will also reflect & glow with true, inner beauty!
Unravel the Cumulative and deadly effects of added sugars and Transform your life forever.
$2.99 on Kindle