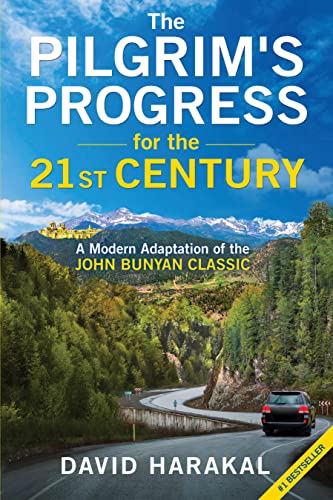 In this modern adaptation of John Bunyan's "The Pilgrim's Progress," Christian Pilgrim drives a high-end SUV with his wife and three teenage children toward Celestial City and the promise of relief from the burden of their sins.
As with Bunyan's original, Pilgrim recognizes his sins and those of his family. He realizes it's time to hit the road because they all need to learn, experience, and come to see the power and wisdom of God. Christian, his wife, and their children struggle in ways familiar to us all. But this is the twenty-first century, not the seventeenth. Traditional temptation and greed vex them, but the sins of modern life are a blight on this family, too. As they make the journey, they stay in B&Bs and inns, eat in diners and cafes, bask in the air conditioning, and express themselves in modern language in modern ways, but all with the intent of overcoming the same sinful desires.
In "The Pilgrim's Progress for the 21st Century," David Harakal has done what no one else has: he's made this classic, bestselling allegory relevant for today's reader. If Bunyan was writing now, this would be it! Transported to modern times, the original characters remain intimately familiar, road trips aside, and as the story unfolds, Harakal reminds us that, regardless of time and place, everyone can relate to the struggle to be the men and women God intends them to be. $7.99 on Kindle.