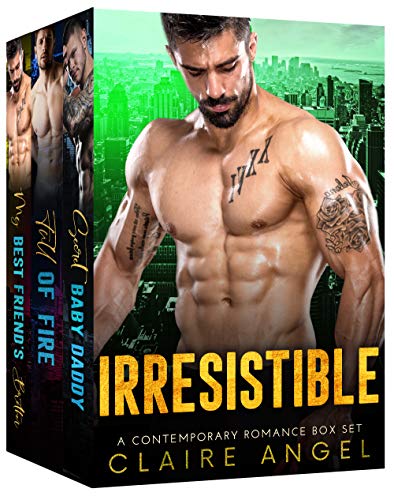 A Collection of three Amazing Stories!
If you like Best Friend's Brother, Secret Baby, Second Chance Romance, then this Box Set is for you.
Book1: Secret Baby Daddy
Just hearing his deep voice, I could almost tell that he was extremely gorgeous.
His familiar green eyes made me look down at me, making my knees wobble like jelly.
I still couldn't believe that I'd just seen him again.
He always had a lot of women around him.
He was one of the playboys.
Every girl wanted that irresistibly gorgeous man.
For me, he was like an unreachable dream.
I pushed my wits and rationality aside to go after him.
And that was the stupidest thing I'd ever done.
A part of me wanted to believe that he was not completely a bad person.
But I can't fool myself anymore.
And why he has appeared in front of me after all these years?
Book 2: Full of Fire
If you even looked at her, you will get burned.
Yes, you got that right.
She is full of fire.
And touching fire is a bad idea…
I had no plans to be with someone.
But everything changed the day I spilled coffee on her.
Being around this ballbuster felt so good.
Looking into her eyes made my heart melt.
She is determined and tough one.
She wouldn't let anybody in.
And she made sure that everybody knows that.
She is a walking disaster.
So how can I even dare to get close?
Book 3: My Best Friend's Brother
Have you ever fallen for your best friend's brother?
I am sure many of you did.
But did you end up kissing him?
And I was not drunk…
He kept yelling at my best friend.
I never felt comfortable around him.
He just left a bad taste in my mouth.
I was at peace…
Because the sullen jerk moved away a few years back.
He was always bossy and arrogant.
I hated him.
Now he is back in the town.
And I can't avoid him…
For how long, I will be able to hold back myself? $0.99 on Kindle.