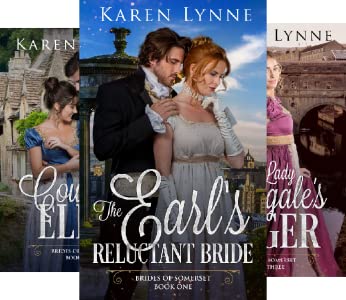 If you like sweet romance, you'll fall in love with the Brides of Somerset Series. Heartwarming, satisfying sweet historical romances where all the ladies find their own happily ever after.
Escaping a forced marriage, Susan accepts a fake betrothal to the handsome Earl of Malmesbury…
Eliza is in love with her best friends' brother…
Sparks fly when lovely, impetuous Lady Abigale collides with handsome Sir Andrew one moonlit night…
Passions rise as Isabella and Colton dance around their feelings in a marriage of convenience…
Lillian is tossed out without references on a cold winter night…
Sophia is determined to find a wealthy husband when her father suddenly dies, leaving her in poverty with a bankrupt estate.