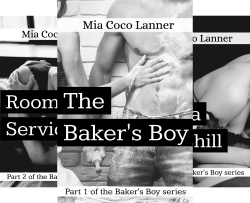 Arabella Anderson is a woman on a mission. Her business is thriving and she is in the running to win a prestigious business award that will take her business to the next level. She doesn't have time for distractions. But a delivery from a supplier turns her world upside down when the Baker's Boy awakens a hunger in her that she can't ignore…
Ben Miller lives to bake. His work in his father's bakery business leaves him little time for anything else. Especially love. But Arabella Anderson has intrigued him from the moment he first set eyes on her. She's driven, dedicated, and hiding a broken heart. Will she ever see him as anything more than the Baker's Boy?
Will lust turn to love in the heat of the kitchen, or will business take precedence over pleasure? Find out in the Baker's Boy series. Books in this series are priced at $1.14 to $2.99.