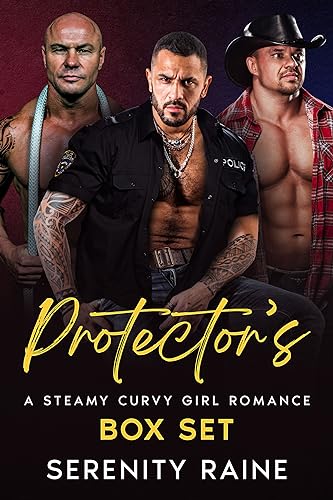 Protector's: Steamy Curvy Girl Romance Box Set.
Find yourself crawling with anticipation as you flip through the pages of these ravishing, hot protectors. Each built to keep you safe and, in their arms, only. All these steamy curvy girl romances come with suspense, twists and turns that will keep you on your toes and wanting more. Guaranteed each romance comes with an impassioned happy ever after.
HIS BURNING REGRET
Dig your fingers in the pages of that guy from high school who had the audacity to leave you high and dry. Shattering you, he was to protect every inch of you. Griffin must learn the hard way, women hold grudges. It's not easy to forgive and forget all the time. His bravery may break that barrier…
Summer Rendezvous with my Best Friend's Dad
Daydream about your friend's fine-looking dad, who ages like a fine wine and can lure you in with those seductive eyes… Mason has trained for years in the field to protect others and will do what it takes to keep you in his arms.
The Rancher's Better Half
Ride it out with the rugged rancher whose arms are built like a horse. He protects what is his, not to mention he is captivating close- up and at a distance. Wyatt will go to the end of the earth to protect you emotionally and physically from those who are out to destroy you. $0.99 on Kindle.