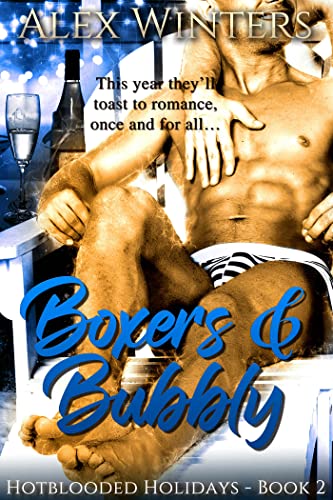 This year they'll toast to romance, once and for all…
Logan Emory has had a man crush on his former teammate, Parker Piedmont, for as long as he can remember. It culminated with a spring break pool party during Parker's senior year, where sophomore, Logan, watched as the night wore down and it was just the two of them, lying next to each other on deck chairs. Their eyes met, the implications clear, the attraction strong, and then… teammate Boomer Sampson picked Parker up and tossed him in the pool, literally dashing all hopes both boys had of a late-night hook-up, to say nothing of a burgeoning relationship.
Five years later, Logan is the founder and CEO of Soxers, a chain of pop-up kiosks selling boxer shorts and tube socks. Parker has returned to town on New Year's Eve to sell his parents' property. When Parker pops into Soxers and finds Logan behind the sales counter, he lures his old teammate and former crush over to deliver some boxers and socks but has much more in mind once Logan gets there.
Will the surprise invitation ignite a New Year full of boxers, bubbly, and more, or fall flat like warm champagne on New Year's Day? $2.99 on Kindle.