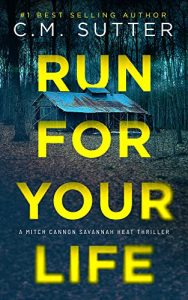 With the weekend right around the corner, Homicide Detective Mitch Cannon is looking forward to Saturday night. It isn't often he has a date, and this one will be particularly interesting. His new friend Liza is beautiful, edgy, outspoken, and somewhat odd.
But Mitch's usual Friday-morning phone call to his mom sets the wheels in motion for five days of pure hell. Mitch's sister, Marie, has gone missing without a trace. His date is canceled, and Mitch's partner, Devon, and Liza also go missing the following night. The only clue is a call Mitch gets from someone whose number is blocked, the anonymous speaker saying, "Ticktock, ticktock."
Mitch and the entire Habersham precinct set out on a white-knuckle search to find his sister, partner, and new friend before time runs out and all three are gone forever.
Free on Kindle.