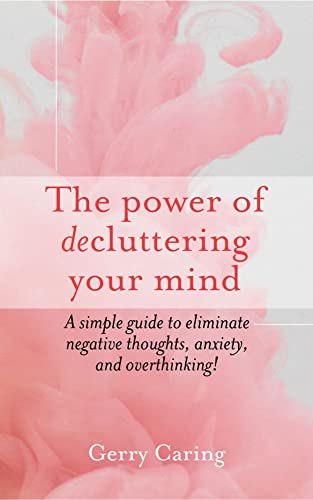 On a scale of one to five, how often do you find yourself stuck in these conditions?
– excessive worrying
– feeling left out
– experiencing low energy levels
– pessimism and procrastination
– intense self-doubt
– taking out your frustrations on others
– total emotional breakdown
If you've scored higher than a three on most of the list items, chances are you might need a little reinventing.
Juggling life can be challenging at times, especially when everything decides to happen all at once. Sometimes, we can't help but feel alone, small and helpless in such a big world. Breaking free from a toxic mindset might be tough at first. However, it isn't impossible to focus on the good things.
If you're determined to get past petty insecurities, rise above your fears and create the life you want to live, this book has got you covered!
The Power of Decluttering Your Mind is your fast, friendly and wholesome guide to effectively eliminating negative thoughts, anxiety and overthinking!
Benefit from chapters filled with eye-opening advice, effective coping techniques and testimonials on:
– discovering and accepting the root of your troubles
– releasing your hold on past traumas and future anxieties
– mastering mindfulness
– creating reasonable boundaries for yourself and with others
– managing internal and external stress
– bracing yourself for new challenges and the possibility of failure
– championing an unshakable positive outlook on life
And so much more!
Don't be afraid to set concrete and marvellous goals for yourself. With courage, patience and commitment, you'll be manifesting your best life before you know it!
You deserve to fully love yourself, take delight in all opportunities that come your way and experience genuine relationships with others.
Above all, you have the power to rise above negativity.
Free on Kindle.