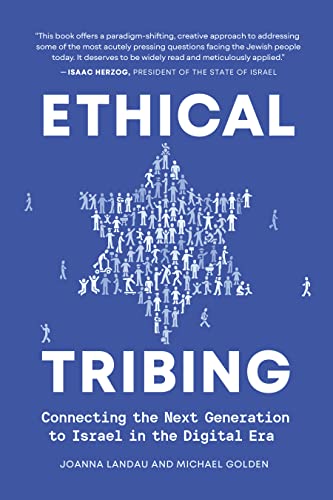 "This book offers a paradigm-shifting, creative approach to addressing some of the most acutely pressing questions facing the Jewish people today. It deserves to be widely read and meticulously applied."
— ISAAC HERZOG, PRESIDENT OF THE STATE OF ISRAEL
Discover the Fastest and Most Effective Way to Inspire the Next Generation About Israel in the Digital Age — and Why it is an Essential Key To Securing the Future of the Jewish People
What if everyone's social media feeds were exploding about Israel — but for all the right reasons?
What if your kids were able to walk around campus without having to hide their Jewish identity or support for Israel?
What if there was a way to tell Israel's story that really resonated with young Jews and non-Jews alike?
Imagine how this would change your life, your community, your world!
In Ethical TribingTM: Connecting the Next Generation to Israel in the Digital Era, authors Joanna Landau and Michael Golden guide you through the actual steps needed to successfully counter one of the greatest threats facing the Jewish people today: a Next Generation that is less and less connected to both Israel and their own Jewish identity. Free on Kindle.