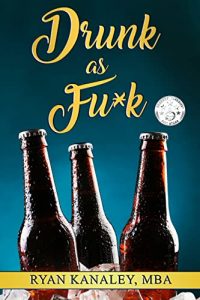 "An unconventional take on a memoir!" – Amazon Review
"one eyebrow-raising funny story after another" – Readers' Favorite Review
___
Drunk as F*ck is part memoir, part self-development, with a touch of comedy.
Born into an unstable family, Ryan Kanaley was eleven the first time he drank alcohol.
By seventeen he nearly lost his life in a tragic accident.
Before he was old enough to legally drink alcohol, he found himself behind bars.
By the age of thirty, he finished six years in the military, finished three college degrees, and owned his own company.
Even if alcohol or addiction doesn't directly affect you, this book is sure to entertain! So click the BUY NOW button at the top and join the drunken escapades with a double shot of life lessons! Free on Kindle.