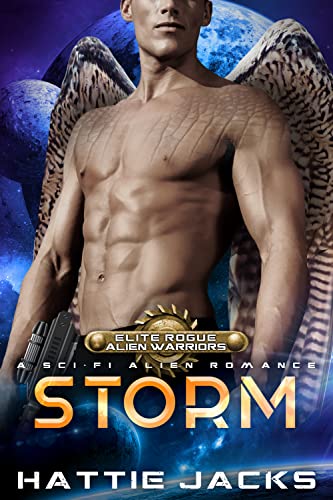 He's the monster on the space station. I'm the girl who always runs.
I thought I would die alone in the heap of floating space junk orbiting a planet that's not Earth.
But then he burst through an airlock. And now I know two things:
We are not alone and aliens are not little green men.
They're hulking great winged predators with abs that go on forever and a penchant for hunting humans.
My alien has to be the most gorgeous being I've ever seen.
From the look in his dark eyes, he wants so much more than first contact. He wants to consume me…
So why am I running this time?
Storm is the first in the brand new sci-fi romance series from Hattie Jacks. Space has never been this spicy! Featuring winged aliens who will do absolutely anything for their found human mates…meet the elite Legion of the Gryn and get ready for your next set of alien book boyfriends! $2.99 on Kindle.