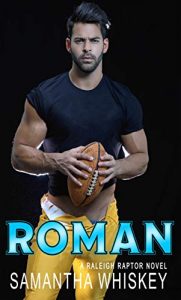 I'm one of the fastest running backs in the NFL,
but I can't outrun my feelings for my best friend.
I've wanted Teagan Hall for over a decade, but I've never been willing to risk our friendship.
Then she shows up at my doorstep, fleeing her abusive ex, and everything changes.
Now she's not just my best friend—she's my roommate.
She's also the sexiest thing I've ever seen.
Every innocent touch crackles.
With her walking around in my t-shirts, I'm practically hard 24/7.
The scars from her last relationship are still visible, but the chemistry between us is undeniable. If we crossed that line? We'd be explosive.
With her ex on my team, practice has become a battlefield.
All I want to do is love and protect her…
But I can't give her the future she's always dreamed of.
We're swimming in the deep end now,
And when the past refuses to let go, it might just pull us under.
$0.99 on Kindle.