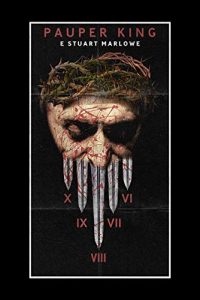 X. Snow White is dead.
IX. Someone has put a pickaxe through her head.
VIII. Her father, the disgraced King Johannes Wynpenny, vows to hunt down her murderer.
VII. But then others die—more beloved fairy tale characters—and now it's clear that a deranged killer is on the loose.
VI. Someone who leaves behind taunting clues and a cruel countdown.
V. Someone seeking revenge.
IV. As his town is swept by witch hunt hysteria, Johannes must stop the maniac before others fall victim…
III…including himself.
II. E. Stuart Marlowe weaves a tale of magical realism and crime, where fantasy and horror bleed into historical fact.
I. And where the fables from our past speak to us across the centuries. $0.99 on Kindle.