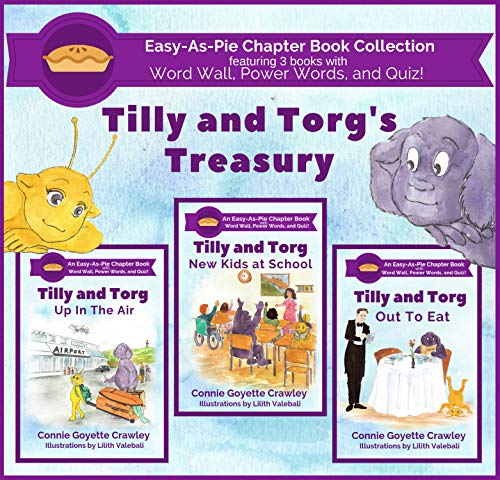 Together for the first time, an Easy-As-Pie chapter book collection featuring three Tilly and Torg books together! Each book includes word lists and a book quiz. FREE coloring pages, word cards, character cut-outs for retelling the story – and MORE- are available on conniecrawley.com.
• Tilly and Torg – Up In The Air: When Tilly and Torg are invited to a party at Auntie Glo's house, they're ready for takeoff! Join the two hilarious monsters as they take their first airplane trip, meet their monster relatives, and hit the beach!
• Tilly and Torg – New Kids At School: Tilly and Torg are off to their first day of school. And whether it's reading, math, art, or even recess – one thing is for sure! These two hilarious monsters have a lot to learn!
• Tilly and Torg – Out To Eat: When there's no food in the house, Tilly and Torg head out to a restaurant and one thing is for sure – with these two, trouble is always on the menu! Free on Kindle.