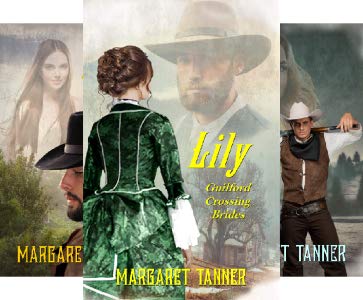 1870's Guilford Crossing, Texas. The Guilford sisters, Freddie, Alfie and Alex have been brought up by their tyrannical father to run his freight carrying business in Guilford Crossing, because the son he had hoped would take it over has returned from war wounded in body and mind.
The girls can drive the wagons and shoot as well as any man, a necessity on the long and dangerous trips that they regularly take. They all long to get out from under their father's control and make a life for themselves.
When Freddie is ambushed, beaten and left for dead, she is found by Nicholas Brown a loner who has locked himself away from the world. Despite the danger from her assailants, he nurses her back to health. Will his love for Freddie be strong enough to enable him to re-join the human race?
Alfie is a dead woman walking. She married a young man to escape her father, only to have him murdered. Her ruthless in-laws blame her for their son's death and place a price on her head.
Bounty Hunter Eli Darcy is hired to track Alfie down. He doesn't at first realize she has been framed. Will his pursuit for the reward turn to love?
And if so, what will he do about the ruthless family who employed him?
Alex is desperately searching for Alfie. She expects to encounter danger and deception before her mission is accomplished. In her wildest dreams, she doesn't expect to be thrown into jail or fall in love with a condemned rancher. Branded a murderer, Noah Greene is in jail waiting to be hanged.
After a daring escape they will have to overcome many hardships to find love together.
Lily moves to Guilford Crossing after a shocking betrayal. Her life becomes entangled with those of the Guilford sisters after she marries a local rancher.
Each of these brave women must overcome deceit, betrayal and danger to find happiness with their chosen partners, four men of vastly different backgrounds.