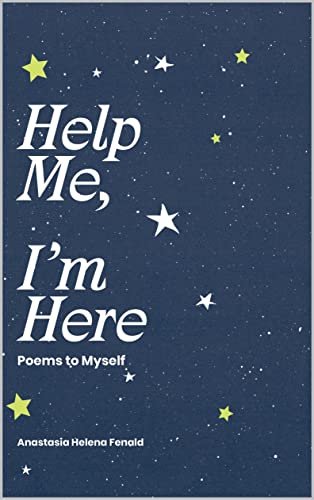 If you enjoyed the darkness of Edgar Allan Poe's poetry as a teenager, but fell in love with the healing of Nikita Gil as an adult, then Help Me, I'm Here: Poems to Myself is for you. Part lonely and raw childhood poems and part ultimate self-love that blooms because of growing up and surviving, this collection is the conversation that people are too afraid to have with themselves.
"Anastasia Helena Fenald captures meeting your inner teen angst with empathy and radical self-love. Help Me, I'm Here is a moving collection of poems that will hold your heart in a warm and validating embrace."
-Oombi Solis Flores, author of (Be)longing from World Stage Press
Help Me, I'm Here: Poems to Myself is both a gloriously heartwarming, but also a painfully heartbreaking collection of personal call and response poems between Anastasia Helena Fenald's adolescent and adulthood selves. Her poems, or trios, focus on three separate voices: childhood, adulthood, and the sum total of who she is now. Witness the growth of her poetry written between the ages of 11 to 30, but also relish in the candid conversations of acknowledging and accepting the darkness that haunts us as we mature from child to adult. $4.99 on Kindle.