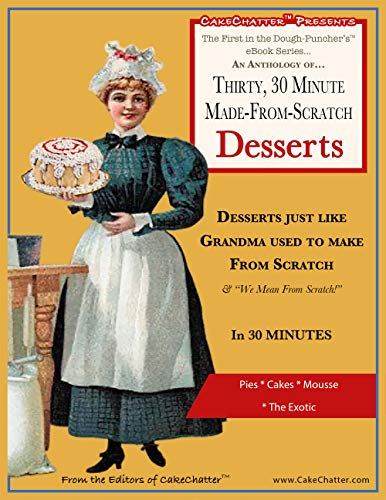 Have you longed for the days when as a child, you walked into your Grandma's kitchen and enjoyed one of her home-baked pies, cakes, or cookies?
Can you taste them?
*Just close your eyes and imagine….*
Your Grandma spent much time in the kitchen, baking sweets and treats for her family—all from scratch—and all from the heart.
The only difference was that Grandma had more time than we do—and she sure didn't use Cool Whip (if she baked like her Grandma did)—and neither do we!
An "anthology" is a collection and we hope that we've brought to you a smattering of Grandma's best desserts (along with newer varieties) from the "classics", along with some exotic desserts thrown in—spiced with helpful and beneficial tips to make these culinary delights all the more enticing.
We selected only those dessert recipes that use natural ingredients. We also noted in our research that many so-called "30-minute desserts" were created using store-bought items like ladyfingers, which were then covered with canned fruit and chocolate and the ultimate—Cool-Whip and *Voila!* Dessert in less than 30 minutes! While this may be fine for some, this is not CakeChatter's idea of a made-from-scratch dessert.
Our desserts are fast and are made-from-scratch (and we mean from scratch!) in 30 minutes (some a few minutes more, so forgive us). We also edited "the way" to put a recipe together, making the directions much simpler and easier to follow, so that your desserts will "sing" your praises when devoured.
Enjoy the baking and the reward! *Grandma would be proud!* Free on Kindle.