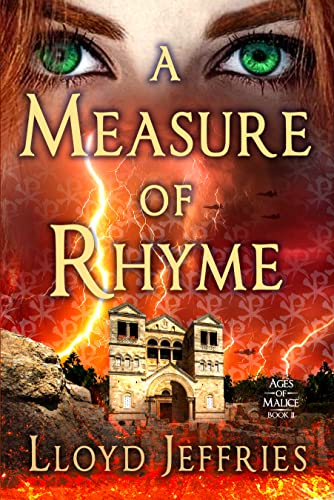 An Explosive Tale of Love and Survival
Rhyme Carter has a problem—she's married to the Antichrist.
But her heart belongs to another man.
A man she deserted to the clutches of the Devil himself.
Emery Merrick wakes in a hospital to find the woman he loves betrayed him. Swept away on a drug-fueled tsunami of madness and mayhem, he plummets further into addiction, misery, and the machinations of immortal madmen.
But Rhyme has plans of her own. Plans to thwart her evil husband and reclaim her life.
From visionary award-winning author, Lloyd Jeffries, A Measure of Rhyme continues the epic saga of a secret society's quest to dominate the world, fulfill prophecy, and offer the Earth as a sacrifice to a bloodthirsty God. The sequel to A Portion of Malice, it's the second installment in the spellbinding Ages of Malice series.
As Mankind races toward the apocalypse, can a former librarian overcome staggering odds to
save the planet—and the man she loves—from certain destruction?
Don't miss this sizzling thriller!
Buy your copy today.
$0.99 on Kindle.